Sad to say, we got razzle dazzled last week. Just like any red blooded American boy we got a little too "excited" a little too soon.
That dirty tv harlot, Hannah Montana, got us all fluffed using the skills of her sensei, Mama June
Then she stole our Vcard like it was her job.
And maybe we liked it...don't judge.
This week we've got Relax. It should be great match up considering they are practically dinosaurs themselves. I mean what is this their 54432164131218548646152nd season to play?
Bring it on old timers! The Dinos are ready to RAGE!!!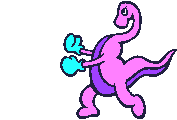 BAHHHHHHHHHHHHHHHHHHHHHHTNHHHHHH!!!!!