It's hot as balls out there, and the science tells us that it's easy for tempers to flare up in the dog days of Summer (Seriously,
check it out
, humans kill each other more when it's hot out), but always remember we're just playing kickball! Whether it's your ref that just blew a call, the girl who just slid into your knee, the teammate who just dropped a fly ball, or whatever it is, take a breath and remember that nobody comes out to kickball to yell at each other, and doing so is the quickest way to make sure the best part of your week is not fun anymore. Bill S. Preston Esq. said it best y'all:
Yelling at people is not excellent.
It'll blow your mind how much more fun you can have when you don't get worked up over the small stuff.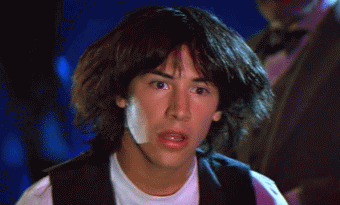 WOAH.
Oh yeah, and lets not forget the other side of the equation, bringing your party pants! We all know the Bill & Ted philosophy is binary, and it's this combination of ideology that eliminated war and harmonized society:
Come to the bar after your game!
Can't wait to get back on the field with you guys Thursday night!
Love,
Stephen