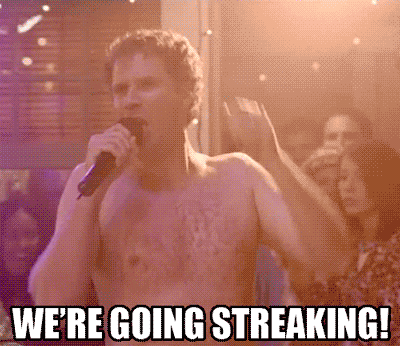 Don't look now but PurpleSaurus Rex is officially on a win streak! None of us are really sure how to handle this as we never anticipated winning a game and were confident we could lock up the 18 seed all season, so we're in uncharted waters here! All this was also accomplished while sporting tutus tiaras and tights, the most time-honored PurpleSaurus Rex team theme:
Kickball wins aside, it's time we started talking about the Life of the Party contest. We can't do this on our own people! Well, clearly we can but it's way more fun when a worthy adversary challenges for the throne. Here's the thing: y'all are all fun as shit, you're just not playing the game! I'm gonna clue you all in, because I feel like I'm playing with house money and taking the pot here.
Wanna win social points? Here's the checklist for success:
1. Appoint a social captain. They are responsible for completing the rest of the checklist each week.
2. Is it a theme week? MAKE SURE YOUR TEAM PARTICIPATES TO THE MAX! Theme weeks are the #1 point scoring opportunities.
3. Take a silly picture at the bar or at the fields and post it on Instagram with #clubwakaaustin, #yourteam, and #picoftheweek. Just posting is a point! Doesn't even have to be great!
4. If it's a theme week make sure to take a team pic at the field pre or post game. Post it with #clubwakaaustin #yourteam #bestdressed.
5. Find your ref at the bar and buy them a beer! Take a selfie and post it with #reflove #clubwakaaustin
6. Participate in the party game hosted by Caitlin at Toss at 10:30 PM. Just playing gets you a point, winning gets you more!
7. Send a short post to waka.gmot@gmail.com for the blog. Posting is a point!
You do all that, (just PARTICIPATING, mind you), and you've scored a minimum of 4 points on a regular night, and 8 points on a theme night. Actually win the bar game / theme night / picoftheweek? You can score as many as 14 points all at once! That means that the two teams that haven't played AT ALL this season could go from tied for 17th all the way to 5th place in the league on one night. It's anyones game!
PRO TIP:
Boomerang is your friend. 3 second videos are awesome for #picoftheweek submissions