We came, we saw, and we… were conquered. Yes, Relax did bring the pain, but they did not break our spirits! Did Nate get lit up on the mound? Yes. Did Jay shut us out at the plate until the game was already out of hand? Yes. Did most of the team cry ourselves to sleep Thursday night? Of course, but that had nothing to do with kickball. What's really important here is something that members of both teams can truly appreciate: Jay "The Mug" Russell looked terrible at the plate! Seriously, watching him kick is similar to Stephen in tights: Total train wreck (just kidding Stephen, we love you and your toothpick legs)! The guy is unstoppable on the mound, but lets be honest, our entire team sighed in relief every time he came up to kick. Luckily, we got video of his efforts for the league to enjoy:
Don't worry Jay, Vegas is still 3 weeks away! I'm sure you can figure it out by then… Maybe Kate can give you lessons? Three quick sessions will take you from this: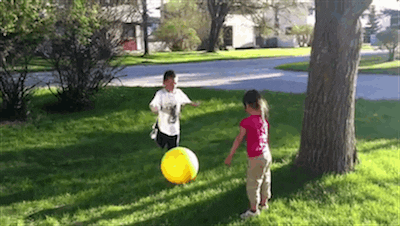 Don't be afraid to ask for help. Remember, admitting you have a problem is the first step to recovery!
Anyway… TKC isn't about moral victories. After a 0-2 start, we've decided its time to focus on what matters:
Run train on our opponents from now until the playoffs: Sorry A Nu Start. We like the fact that your captain is a Redskins fan, but your timing could not be any worse. You better pray it rains, because things are going to get ugly out there.
Happy Hours/Team Parties/Drinking too much in general: This is a game we always win. Some might say "Aren't you guys too old to be drinking like that?" Maybe, but lets be honest, isn't that what WAKA is all about?
The Baltimore Orioles. Everybody in the league should focus on the Baltimore Orioles.